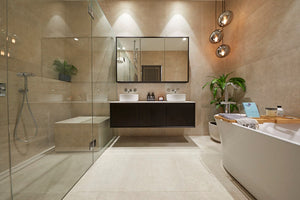 Bathroom Lighting
Bathroom Lighting on The Block
This season on Channel 9's The Block, there has been a very big emphasis on the practicality of lighting as well as the decorative aspect.
Practical lighting in a bathroom or ensuite is essential, as a lot of people do forget that these are work area's. Whether it be applying makeup, plucking or shaving it is very important to eliminate shadows and have a direct light.
This can be achieved by either LED vanity wall lights, which are one of our most popular lines, or by using strategically placed pendant lights over vanity sink positions.
One of the most prominent misconceptions is that a downlight in the ceiling above the sink is sufficient enough, but this actually lights the top of your head and shadows your face.
An ideally lit bathroom does need multiple light sources. A main light to illuminate the room, practical lighting to illuminate your face, mood lighting to set the scene for a relaxing bath. It is advised to have all these but use separate switches for all, so that you can customise your light for your specific needs at the time.
Pendant lights in the corner of the room create a beautiful ambience and if you have the luxury of space it warms the area and makes it feel more homely.
Another main factor that the judges on the Block didn't mention is steam extraction. This is even more important than lighting as a build up of steam leads to the creation on mould. There is a large new range of stylish and sleek 3in1 Bathroom Heat/Exhaust/Light models available now. They no longer have to be an eyesore, but can be a sleek addition to your ceiling, and give you the steam extraction practicality and an added bonus of heat for those cold mornings. 
Be creative, but remember to be practical.
If your building a new home or renovating your bathroom or ensuite, bring in your plans and we can help you pick the right lighting for your space.
Shop our Range: www.roundaboutlighting.com.au/search?q=bathroom
Above: Beautiful basket chandelier in the corner of the bathroom.
Above: Practicle LED Vanity Bathroom wall light.
Above: LED Linea Light Pedant perfect to illuminate vanity's, especially double sink versions. Available in several colour options and lengths.
Above: A cluster of pendant lights in the corner of a bathroom to create mood.
---