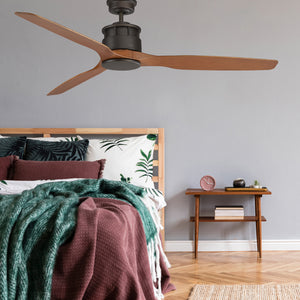 Ceiling Fans for every room!
Ceiling Fans are widely popular in most people's new homes or renovations.
They provide a very efficient way to keep cool, while looking good with a huge new range of designs and styles to suit any look. Most common in White, the ranges have now been extended to include a lot of black sleek designs, timber look ABS blades in 3 or 4 blade styles.
Abs blades give a more higher airflow due to the durable materiel being able to be moulded to scoop more air and create higher air movement figures in your space. 
LED lights are now available in most designs which will also give a much higher illumination to your space while allowing for a more sleeker design.
AC ceiling fans are the most common types as they offer great value. DC motors are also available to make your fan even more efficient and whisper quiet with remotes for your convenience too. Most remotes also have a sleep timer option which is great for those evenings when its not hot, but you just need a bit of airflow. These will automatically turn off after a period of preset hours once your asleep.
View and shop our huge range now: https://www.roundaboutlighting.com.au/collections/ceiling-fans 
Ceiling Fan Models starting from $69.95, there is a fan for every style and budget.
We have over 30 models on display in our ceiling fan showroom in Echuca.
Afterpay is available on all ceiling fan purchase and Free delivery*
See some of our most popular designs below:
Eglo Bondi Ceiling Fan available in White or Black
Ventair Harmony II ceiling fan with LED Light, available in White, Black or Titanium
Eglo Hoi An 3 blade wooden ceiling fan
Ventair Manhattan enclosed ceiling fan with LED light
Martec Discovery 4 blade ceiling fan with LED light available in Black or White
Martec Govenor 60 inch 3 blade ceiling fan available in Old Bronze, Titanium or White 
Ventair 4 blade Spinika ceiling fan with LED light, available in Black, White or Titanium
Martec Albatross large DC ceiling fan with remote. Available in 3 sizes and 3 colours.
---
28 comments