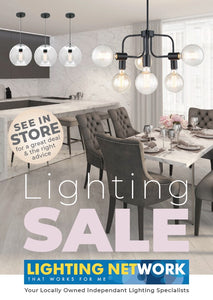 NEW Lighting Catalogue SALE Now On!!!
CATALOGUE SALE NOW ON!
Our Latest Lighting Network Sale Catalogue is hot off the press filled with new styled lighting ideas at SALE PRICES!
Great range of products to complete your new building project or renovation on your home or office.
Large range of designer styled pendant lights, ceiling fans, lamps, led globes, led downlights, led spotlights, exterior lighting, bathroom 3in1 heat/exhaust/light.
New styles in store now and also available for purchase via our website which included Afterpay as a payment option.
Bring in your plans, and let our friendly experienced staff help you with all your lighting needs for your new home, renovation or office.
---