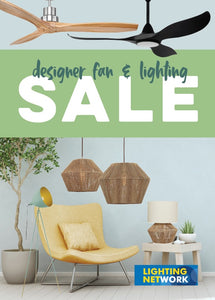 Spring Summer Catalogue Sale Now On!
Our Latest Sale Catalogue has just been released.
The Lighting Network Spring/Summer 2019 Sale is full of lighting, lamps, ceiling fans, energy saving LED lights, globes and much more all on sale.
The latest looks and designer styled items are all reduced for a limited time to give your home the best style and practicality.
Our best sellers, New release products including a huge range of smart wifi lighting and home automation controls. 
The largest range of ceiling fans with so many styles and colour options to choose from including AC & DC energy efficient ceiling fans, are all also on sale!
CLICK TO DOWNLOAD YOUR COPY NOW!
---